DEWEY BRYAN SAUNDERS (deweysaunders.com / IG @deweysaunders)
Philly-based visual artist Dewey Saunders received his BFA from Tyler School of Art, Temple University. His work is fluid and adaptable -- he does have central themes, and chief among them are hip hop and his unique brand of psychedelia. A great deal of his illustrations are portraits of hip hop artists, and it should come as no surprise if you're perusing the Instagram feeds of your favorite rappers and find one of his portraits reposted...His particular brand of psychedelia relies on a pastel color palette, and the arrangement of collected images into a friendly composition of bizarre peculiarity. He depicts his surreal take on the world around us in a playful and approachable manner. *
"Public art represents a conversation with the community and many times offers more of a permanency by making the public art a memorable landmark of the neighborhood...
My favorite public art installations are the Toynbee Tiles because they have an element of mystery that reaches people on a different level. They are communicating these wild prophetic statements and are embedded not just all over the streets of Philly but all over the world. "
*bio excerpts were written by Zach Moldof
Box Location: 5th & South (NE)
RYAN PSOTA (ryanpsota.com / IG @lemonsparklefantasy)
Ryan Psota is an illustrator/designer living in Philadelphia, PA.
He received his BFA from the University of the Arts where he studied illustration. His inspirations include urban art, nature, lasers, old man skin, pyramids, ancient scrolls, ornate sweaters, seaweed, and the aurora borealis.
Box Location: 7th & South
DENNIS MCNETT (http://wolfbat.com// IG @wolfbat)
Dennis McNett's graphic aesthetic and love for narrative work has been translated in many ways. His work ranges from larger than life Viking ship performances and parades in Philly, resurrecting Nordic giants on West Broadway in Manhattan, Dragon slayings in Oklahoma, masks, installations and sculptures to unique hand-carved wood cut pieces, traditional relief prints, and graphics.
Participating in both the fine art and design worlds, Dennis has been fortunate enough to create series' for Anti-Hero skateboards, design shoes for Vans, have work fill the windows of Barneys, NY, and participate in the Deitch Artparade. His work has been featured in The New York Times, Juxtapoz magazine, Thrasher and Complex Magazine. He wants to live until he dies. Breathing is good.
Box Location: 6th & South on the side of City Blue
ISABELLE ALFORD-LAGO (www.isabellegorilla.com / IG @isabellegorilla)
Isabelle Alford-Lago, better known as Isabelle Gorilla, the artist with an infinity for gorillas that humorously mimic mannerisms and have adopted our activities. Her gorillas drink green juice after yoga class, pose in the buff, ride Vespas, visit farmer's markets and sip coffee as they stroll down the sidewalk. Their chill relaxed demeanors often remind us to loosen up and not take everything so seriously.
"My gorillas are the uncensored human, laying bare a primitiveness we can all relate to. In a culture defined by the media's constructed images and idolization of our super stars, we have been led to equate being aesthetically pleasing with personal satisfaction. Despite their large hairy bodies and prominent nostrils, the gorillas redefine super star. Poised in the nude, they greet you with genuine self-confidence. This is why I also take my work to the public space, painting gorillas on exterior walls, so they exist within our "civilized" environment and remind us to be at peace with our own human nature."
Box Location: 2nd and South
JASON ANDREW TURNER (www.jasonandrewturner.com / IG @jasonandrewturner)
Jason Andrew Turner's work explores movement through minimal mark making and texture with hints to cultural history and abstraction. By using the standardized point of the tool, he forcibly limits a deviation from the prescribed purpose of said tool; allowing him to construct environments or situations in the simplest of terms. This notion of process instills meaning and beauty into the work and the resulting images are peculiar, graphic and bold. These works on paper are reliant on personal experience, written language, and the craft tradition as well as their relation to the visual culture of line and symbol.
"Most of my early experience with public art stems from graffiti seen around Birmingham Alabama in my teenage years. Brash complicated pieces with letter forms my impressionable mind would struggle to figure out. As I aged and moved around the styles from city to city would change and I was hooked. Once I landed in Philadelphia I saw that tagging was king, with its own style and energy unique to the city.
Public art, legal or not, represents the breath of its location, the force and mindset of its people. This extends to my favorite legal pieces in Philadelphia, sanctioned by mural arts, made by the likes of Miriam Singer in Fishtown and Joe Boruchow in South Philadelphia. To me, these two artists stand out as being some of more recent to have their unique voice as citizens and artists adding to the vibrancy of the landscape they inhabit."
Box Location: 2nd & South on the side of The Lite Choice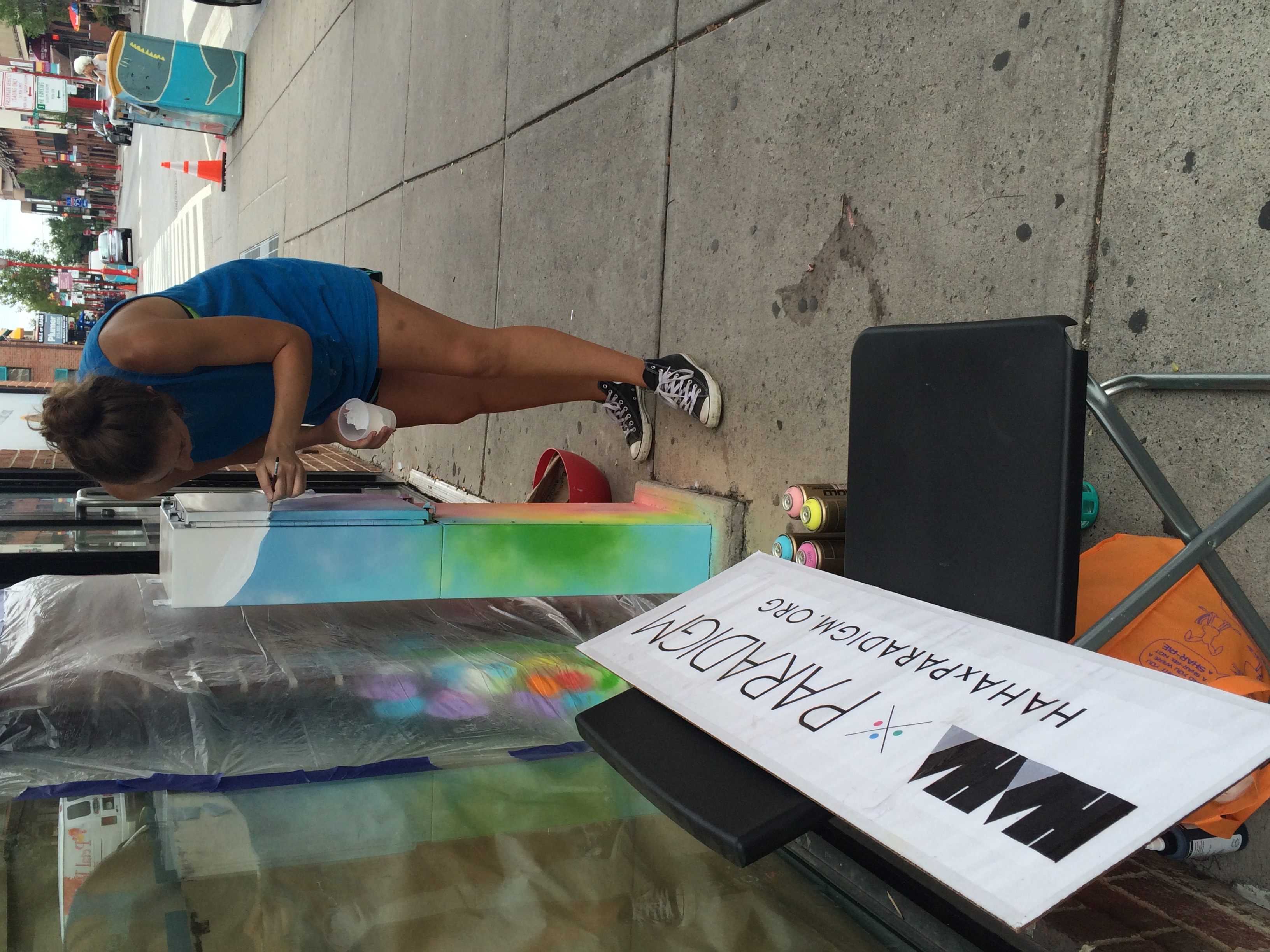 SOPHIE ROACH (www.sophieroach.com / IG @sophie_roach)
Box Location: 2nd & South
Sophie Roach is a self-taught artist and illustrator based in Austin, TX. She discovered her passion for compulsive drawing when she was supposed to be paying attention to lectures at the University of Washington. By using familiar shapes, patterns and her own intuition, Roach has created a unique visual language based on spontaneity and rhythm. Her abstract style is playful yet austere, extremely detailed and often vibrantly colored.
''My obsession with public art (and possibly art in general) started in high school when I stumbled upon a Faile Challenger piece on the drag in Austin. The graphic style was vastly different from the traditional works I had been exposed to in my high school art classes. The fact that it was likely illegal and located on top of a Diesel clothing store showed me that there was more to art than galleries and museums--There were artists out there making stuff because they love to make stuff or in order to have a conversation with the public. The Diesel store is long gone, but I'm happy to report that the Faile piece is still alive and well."
MIRIAM SINGER (www.miriamsinger.net / IG @miriam_singer)
Box Location: 3rd & South in front of Dobbs.
Miriam Singer's drawings look perceptually at multiple locations in Philadelphia and are then worked through memory, eventually becoming a fictional cityscape created with a playful approach. Squares provide the basic measurement of this imagined urban landscape in which a finished and unfinished moment in time coexist on the same field. Sometimes it may appear as a crowded future, only without people, or it may appear empty, like something from the distant past expressing the fragmentation of a fictional city as a collage of noise, pattern, and density.
"I have many favorite street art pieces; but my current favorite is the "Cash for Warhol" Billboard at 30th Station by Boston-Based Geoff Hargadon that is also part of the show, "No Questions Asked" at LMNL Gallery. I enjoy the relationship with his signs with the signs we see all the time, "Cash for your Home", I think it is funny, and it successfully questions consumerism and the art market in a humous way (very Andy Warhol )."
NATE HARRIS (www.nateharrisdesign.com / IG @procrastonate)
Box Location: 4th & South in front of the Johnny Rockets.
Nate Harris lives in Philadelphia. He is a Graphic Designer, Illustrator, Musician and generally a Nice Guy.
"In 1980, Richard Serra installed a public sculpture (tilted arc) at the federal plaza in NYC which consisted of a 120ft long arced steel slab cutting the space virtually in half. The people who commuted through federal plaza hated it, because now they had to walk around it. The city soon realized that it was a huge mistake and after 4 years, they took it down in the middle of the night, and scrapped it at the metal yard. However, Serra kind of knew all along that it would force people to stop, acknowledge themselves in their surroundings, and have to change their subtle daily life patterns. This idea, to me, is essentially why I love to make public art. People walk the same paths, see the same people, day after day, and if my work is able to disrupt this pattern in any regard, then it will be successful to me."
SEAN TALAMINI (www.illustrasean.net / IG @illustra_sean)
Box Location: 5th & South in front of the vacant Clear Store.
Sean Talamini is an artist working in Philadelphia, PA. He has been illustrating and creating art ever since he could fit behind furniture, and draw on the walls of his grandmother's row home. Not much has changed since then. He continues to hold interest in creating art on wood, and found objects. He just uses acrylic paint and oils instead of crayons.
"Public Art becomes something to marvel at when it reaches an apex of interaction with its surroundings. What comes to mind is a series of murals by Steve Powers called A Love Letter For You. The series started popping up along the tracks of the El during my commute to college. Stretching across the textural buildings of West Philadelphia, these typographical marvels peeked around buildings and rooftops and opened like pages in a book. It became a part of my everyday experience. This is why I enjoy street Art. It has true integration from its relationship to the patterns and surface of a wall to the people who pass it everyday."
NDA (www.facebook.com/nda.stuff / IG @ndapics)
Box Location: 6th & South in front of City Blue.
NDA is an American born Urban Artist currently living in Philadelphia, PA. His work can be seen around the world from Mexico to Norway. His bold use of color and personalized brush work have been described as dramatic and grotesque…but you know, in a good way.
"I remember when I first moved to NY around 2005 there was a lot of interesting street art going on. I worked in SOHO and would see a bunch of stuff during my commute in. At this point I wasn't really familiar with the scene but one artist in particular, Judith Supine, really stuck out in my mind. The work was unapologetically unpolished and I remember being struck by the idea that street art didn't have to be so slick and design oriented. Later when I got in to outdoor work I made an effort to create work that felt true to my personal style. I think Judith's work was an early influence and reminded me to be true to what I do."
SEAN 9 LUGO (facebook.com/sean9lugo/IG @sean9lugo)
Box Location: 7th & South in front of Greene Street Consignment.
"Art is my therapy. It is the free-of-charge therapist that allows me to clear my mind of unnecessary daily misgivings and break free of the [rather tough] past I've encountered, and move forward. As a self-taught artist I spent years through various experimental phases until I grounded myself and realized the direction in which to take my work. With my feet firmly planted on the ground, in various aspects, my art shows the world life from my perspective. Collaged layers serve as the base of my primary works – washed out, faded layers of thoughts, memories and experiences as they are found in the rolodex of my mind. Overall the main imagery is a direct reference to moments in time with friends, family, and acquaintances as the subjects reacting to that particular moment. The personalities of my "models" found in both my indoor and street work ultimately guide the direction of the work. It is important for these anonymous figures to shine through and bring an additional layer to my vision especially in my wheatpastes that are found in the streets, as the additional "characteristics" make the images more approachable and relatable for others. Whether in the streets or indoors art is a way to voice ourselves without speaking or writing a word. I hope to accomplish that in life and move millions with my work… at least that's what happens to me when I look at the art of others."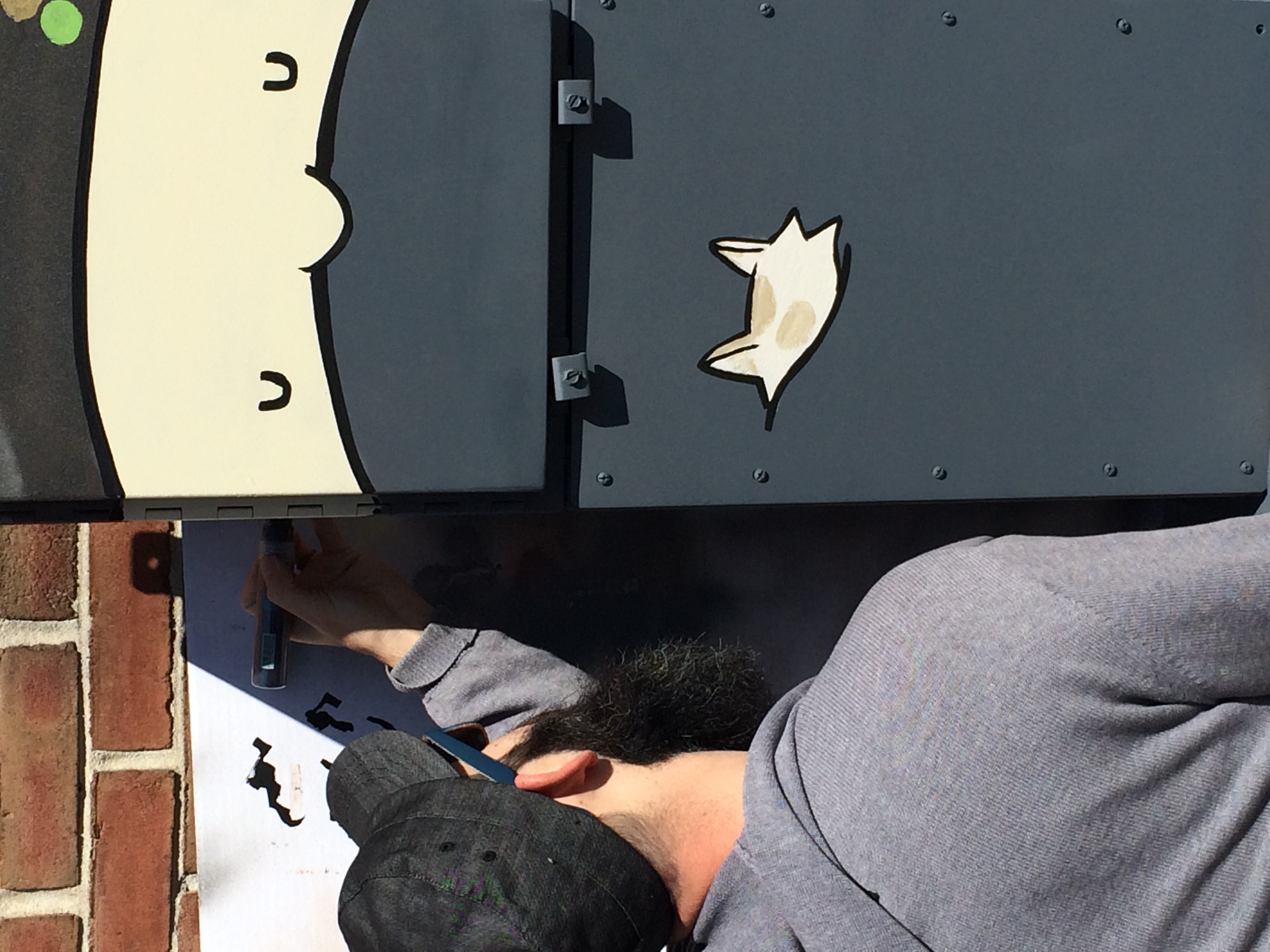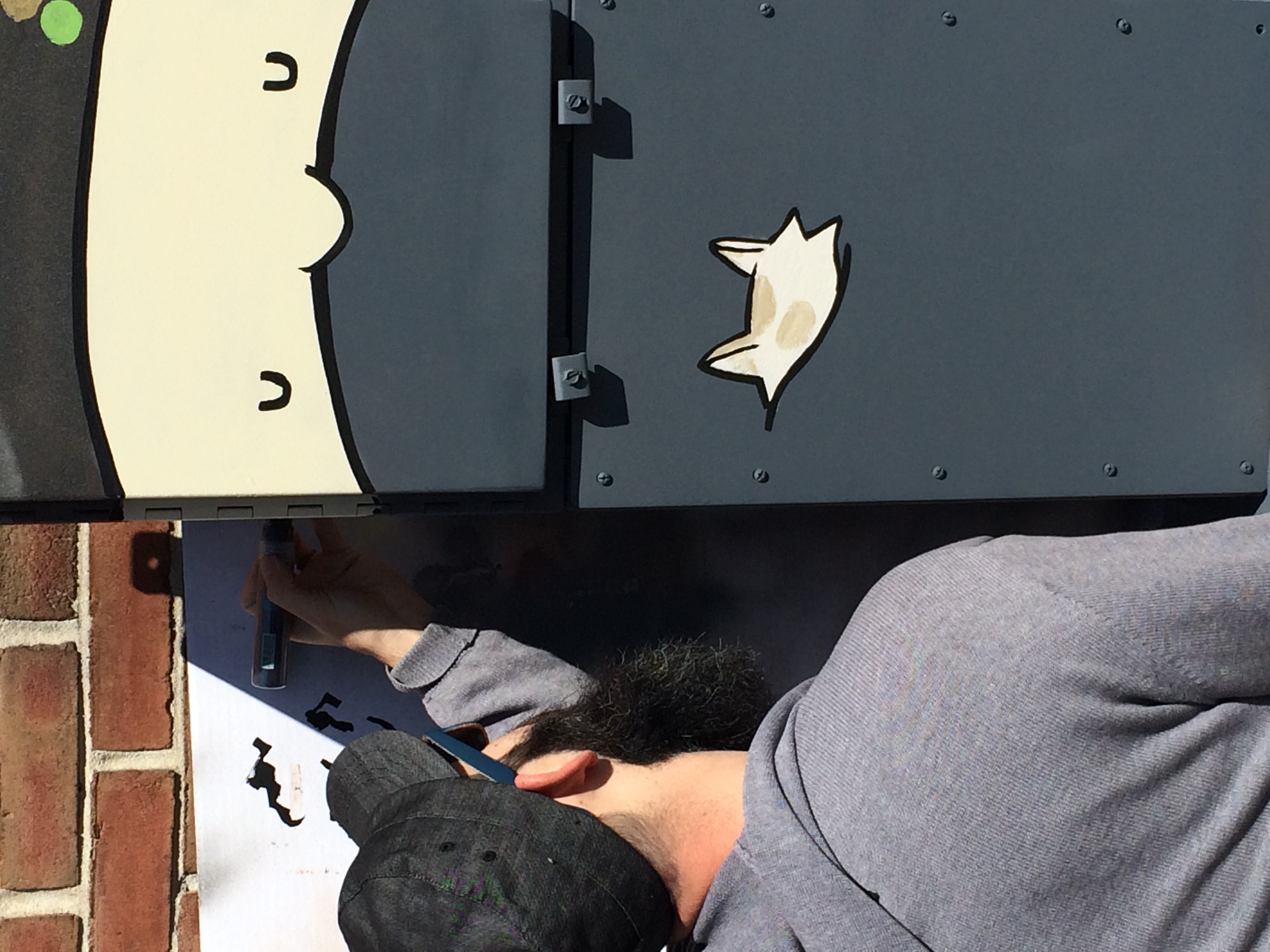 CLINT TILLMAN REID (www.tillmanproject.com / IG @clintbot0001)
Box Location: 7th & South
Clint Tillman Reid is a designer, an illustrator, a coffee drinker, a bicycle rider, an occasional screen printer, an over-analyzer, a beard grower, a music lover, an enthusiastic uncle, a worrier and a lister-of-things.
"I've been a fan of Espo's Love Letters project for several years, and lately I've been enjoying Kid Hazo's public signage posts. I love the combination of aesthetics and subtlety... public art that makes one stop and reflect, leaving with either a smile or a new question to chew on."